Cloth Surface Mouse Pads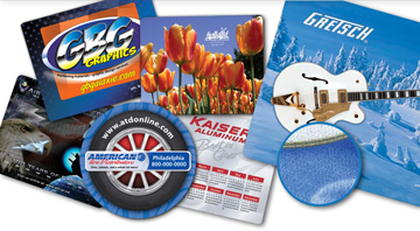 A Traditional Favorite The cloth surface mouse pads affordably provides excellent cost effective advertisement with long- lasting use. Made of top-grade materials to produce the highest quality pads.
Excellent mouse tracking characteristics
Soft Woven polyester bonded to natural open-cell sponge rubber.
Available in 1/8" or 3/16" thicknesses.
Many stock sizes available up to 8.5"x11 or 9" round
---
---
Plastic Surface Mouse Pads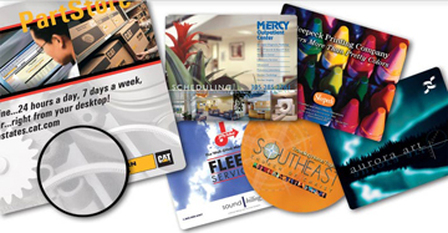 Durable – exceptional image quality. Plastic surface pads offer precise tracking and accurate graphic color reproduction. The nonporous surface simply wipes clean and provides long-lasting protection for artwork.
The plastic surfaced pads are available in 2 low profile thicknesses. The ever popular 3/32" thick natural sponge rubber results in a quality pad which grips the desktop firmly.
Fine-grain textured plastic bonded to natural open-cell rubber or anti-skid backing.
Many stock sizes available up to 8.5"x11 or 9" round
---
SMALL PAD MPPSS/T3
7"x 8.75", 7.5"x 8", 7.5"x 8.5", or 8" round 1/4" corner radius
Super Thin or 3/32" Thick


MEDIUM PAD MPPSM/T3
8"x 9.5", 7.5"x 9", 7.75"x 9.25", or 8.5" round 3/8" corner radius
Super Thin or 3/32" Thick

LARGE PAD MPPSL/T3
8.5" x 11" or 9" round
3/8" corner radius
Super Thin or 3/32" Thick
---
Absorbent Cloth Coasters

A high-impact, low-cost promotional item that features the same high quality materials and brilliant dye sublimation printing used in our soft surface cloth pads. The non-skid base and absorbent surface makes these coasters a welcome addition to any desktop.

4" x 4" Square or 4" Diameter Round
1/8" or 3/16" Thicknesses.
Custom Sizes Available
---
custom mouse pad shapes & sizes